Here's what's going on & what's coming up next.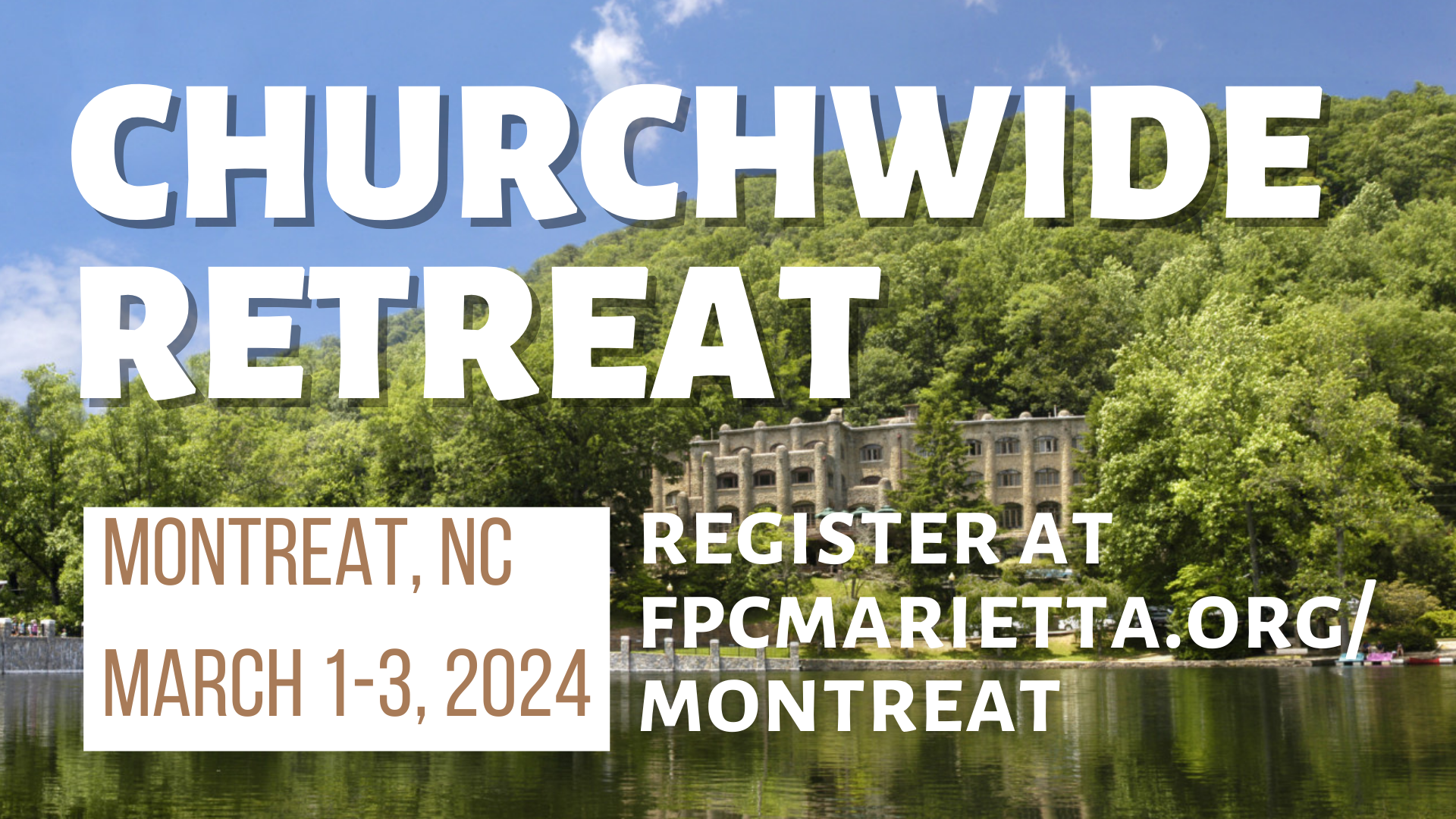 CHURCHWIDE RETREAT
FPC is bringing back our Churchwide Retreat! Join us March 1-3, 2024 in Montreat, NC for a weekend of spiritual growth, community building and enjoying the mountains! The retreat is open to FPC members of all ages, shapes and sizes and there are opportunities for all sorts of interests to be satisfied.
NOTE: Earlybird Registration runs from September 10 – October 22. Registration fees will increase by $25 after October 22nd so register now! Deadline to Register: November 10. NOTE: Registration is on a first come, first serve basis.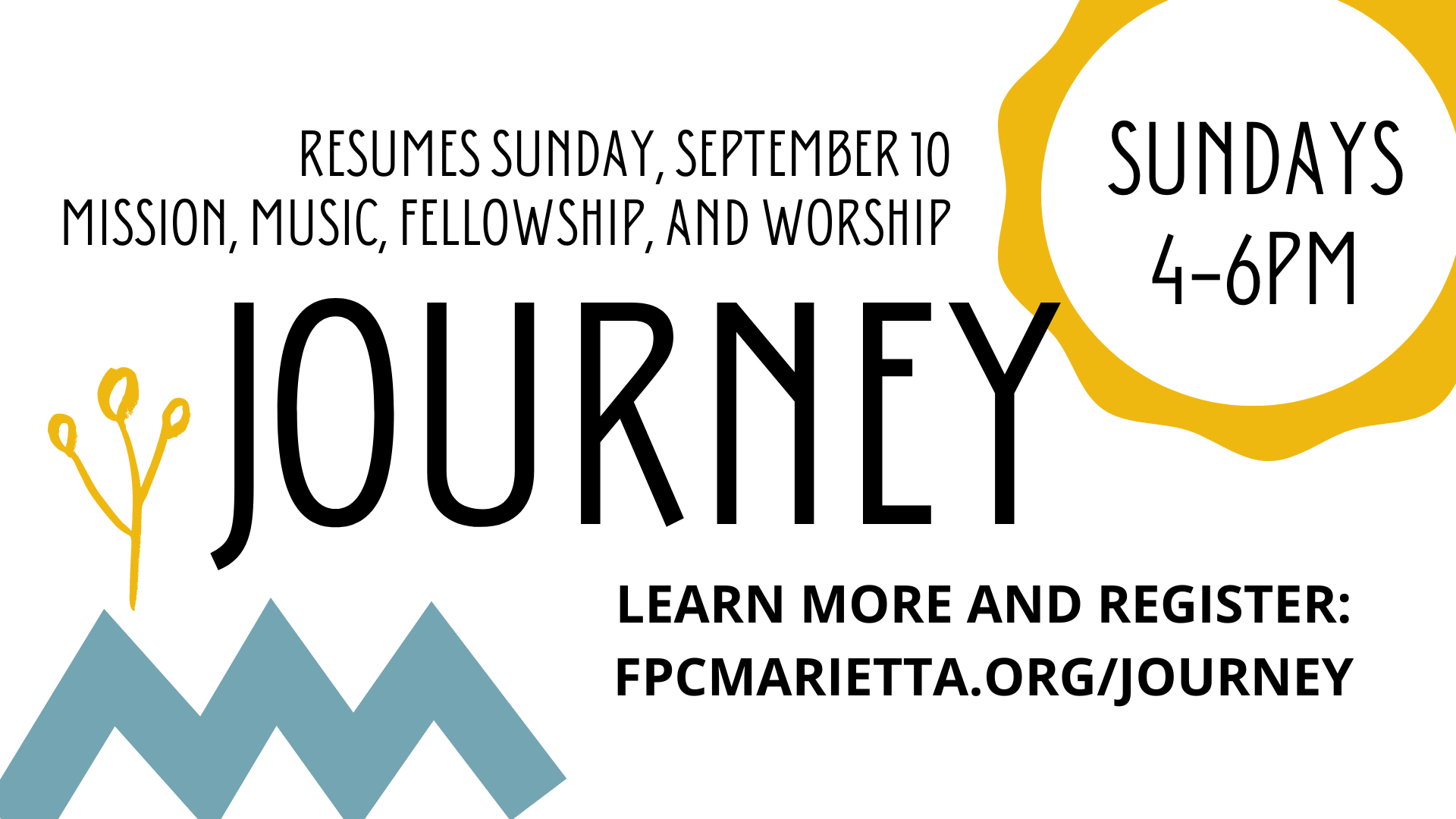 JOURNEY
Sundays, 4-6pm
Journey begins for the whole family on Sunday, September 17.
Journey is a comprehensive program with a goal to foster spiritual formation for the whole family. Children and youth grades PreK-8 will participate in mission, music enrichment, fellowship, and worship. Adults (30s-50s) can join in men's and women's studies led by pastors. A nursery is provided for younger children of participating adults. Youth Grades 6-12 also meet together from 4-6pm.
We also need volunteers to help prepare and serve Sunday dinner to our Journey families! Sign up here.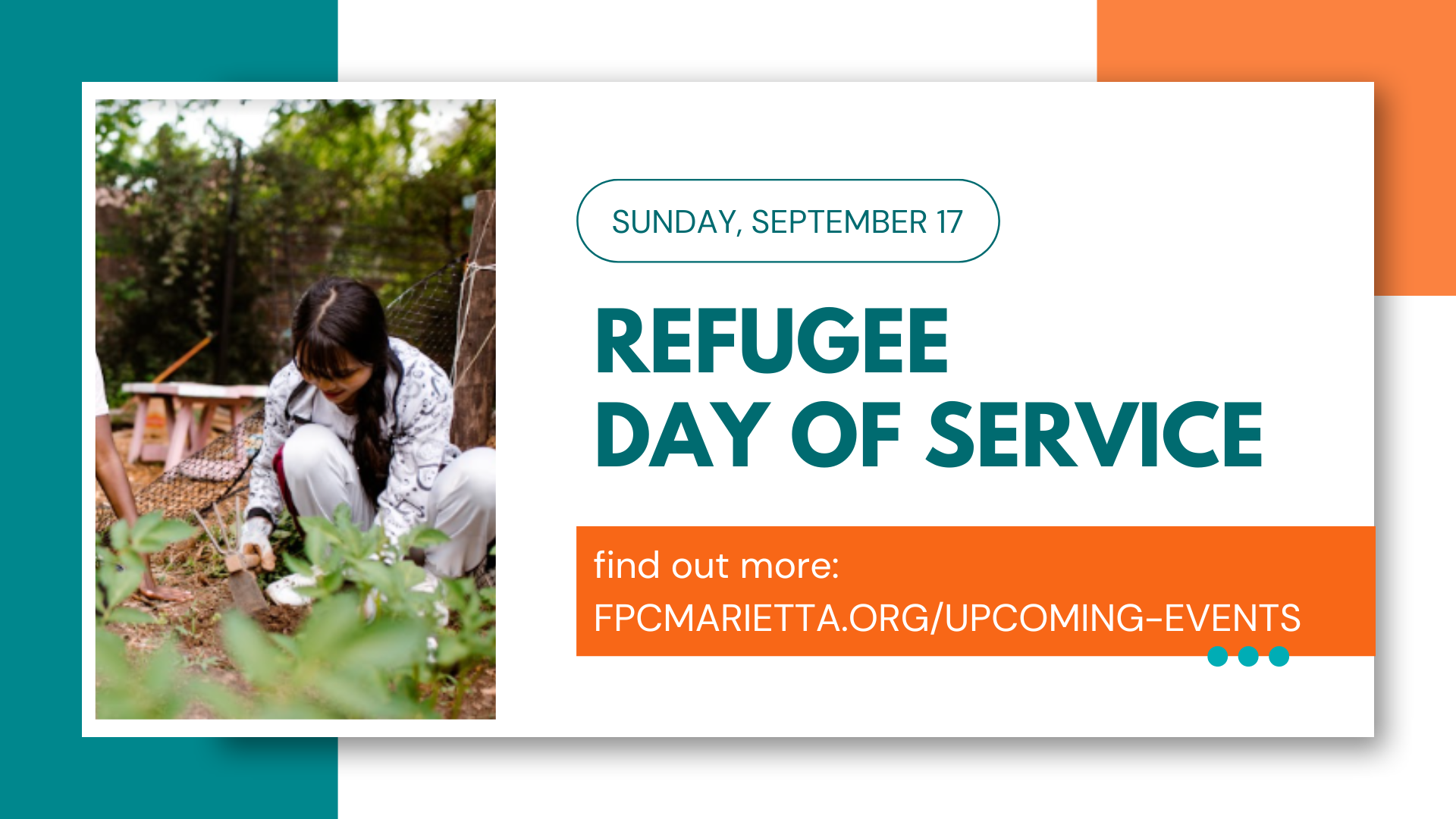 REFUGEE DAY OF SERVICE
Sunday, September 17 | 10:30-4PM
Learn more and find Welcome Kit details here.
Join the Marietta Church Coalition (First Baptist Marietta, FUMC Marietta, and FPC Marietta) for worship with Shalom International Ministry, followed by lunch and an afternoon of service to benefit the Welcome Co-Op (sorting welcome kits, building tables and chairs, etc.) & Friends of Refugees Jolly Avenue Community Garden (Fall planting, harvesting, weeding, campus clean up). Can't make it? There is always a need for welcome kits, and household kits.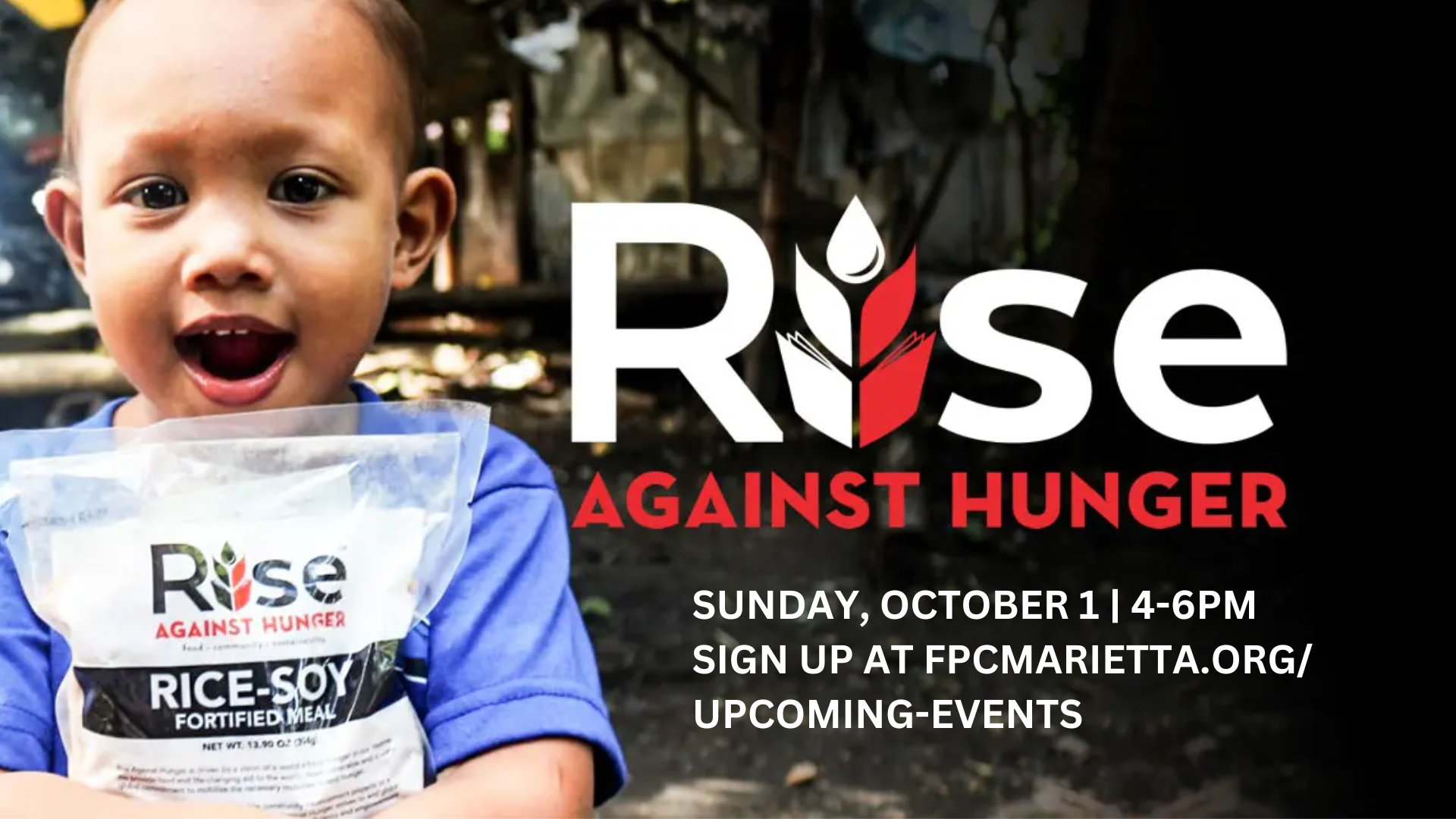 RISE AGAINST HUNGER
Sunday, October 1 | 4-6pm
Register to participate or donate here.
Rise Against Hunger is growing a global movement to end hunger by empowering communities, nourishing lives, and responding to emergencies.
All ages are invited to join us in the meal-packing event in the movement to end hunger! You can also help us reach our fundraising goals! Click the link above!
Help is also needed to take down the Sunday worship set-up and prepare for the packing event. Sign up here.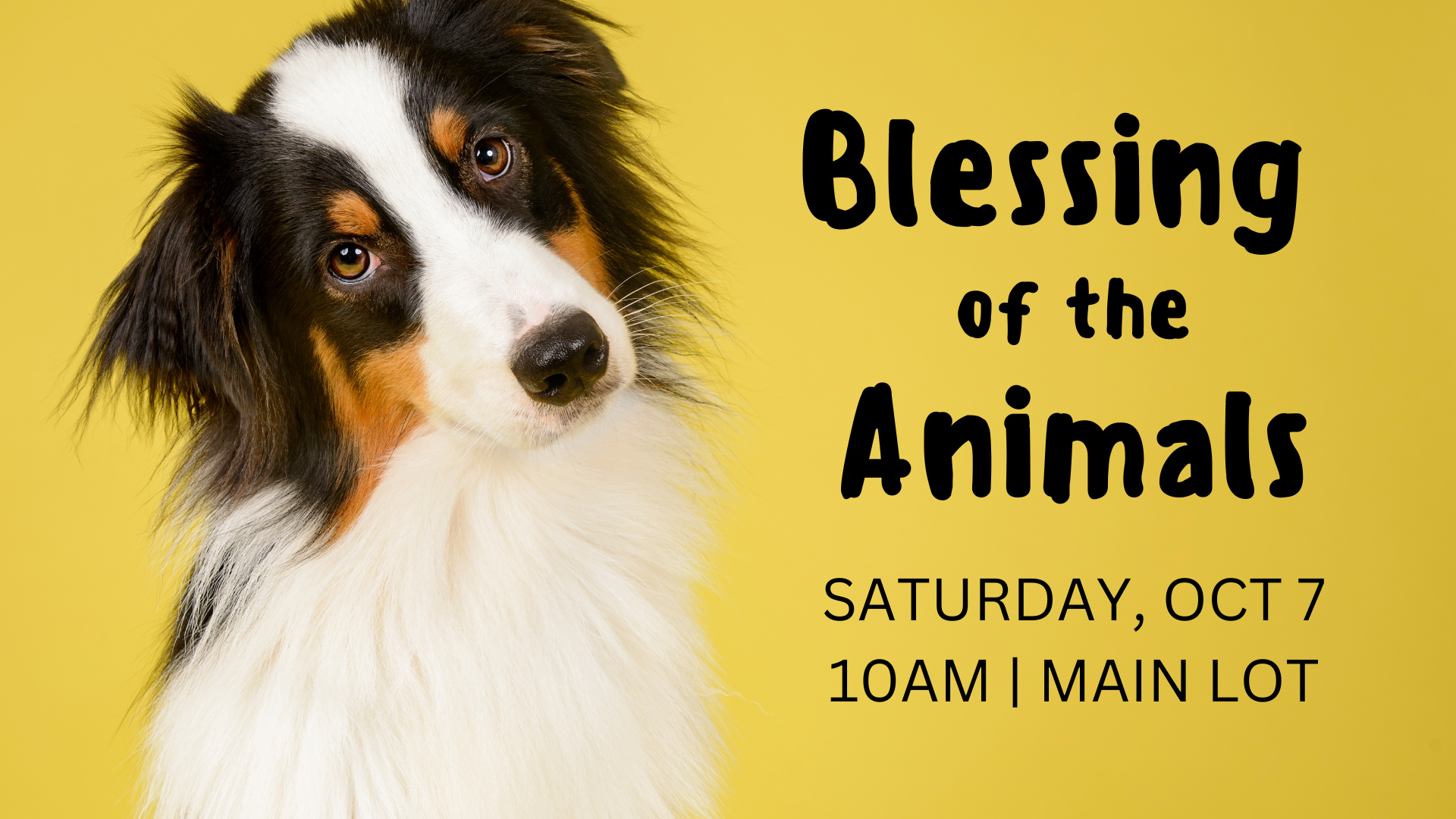 BLESSING OF THE ANIMALS
Saturday, October 7 | 10am | Main Parking Lot
Bring your pets for a special blessing!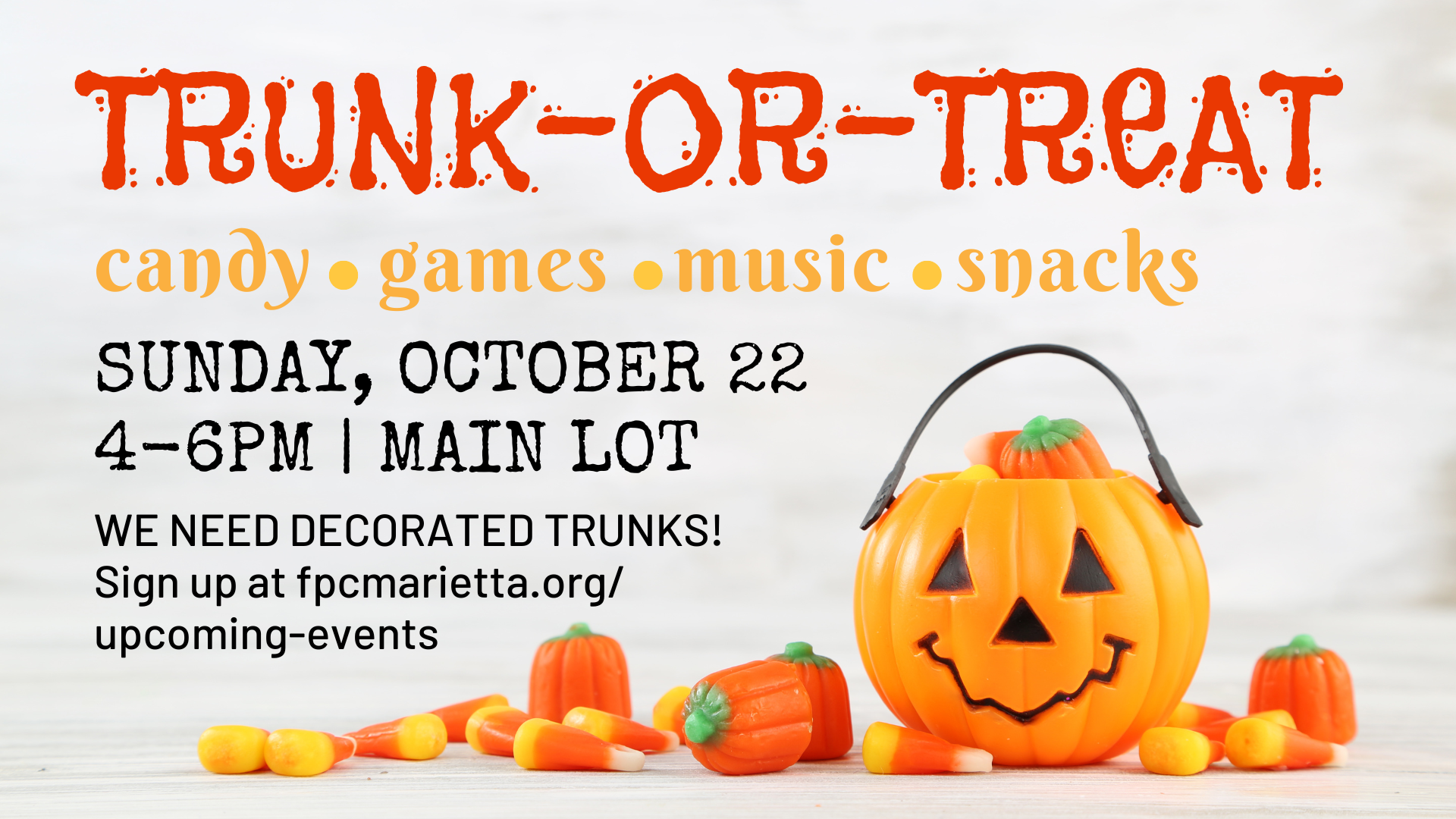 TRUNK OR TREAT
Sunday, October 22 | 4-6pm | Main Lot
Join us for a fun afternoon of games, music, and, of course, candy!
Kids are invited to wear costumes as they travel from trunk to trunk!
We need decorated trunks to make this happen! If you are able to participate,
sign up here.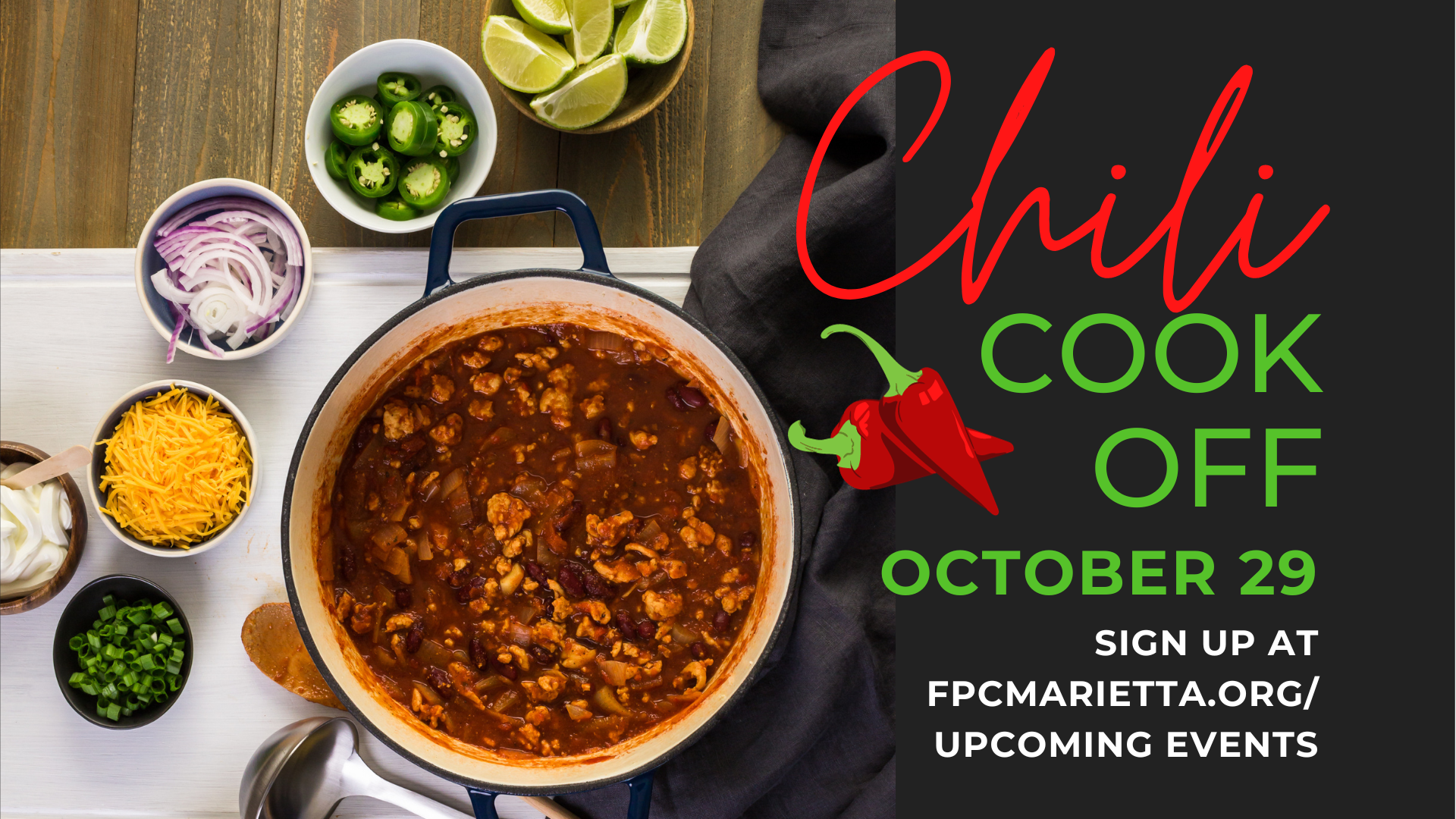 CHILI COOK-OFF
Sunday, October 29 | 4-6pm
Are you up for the challenge!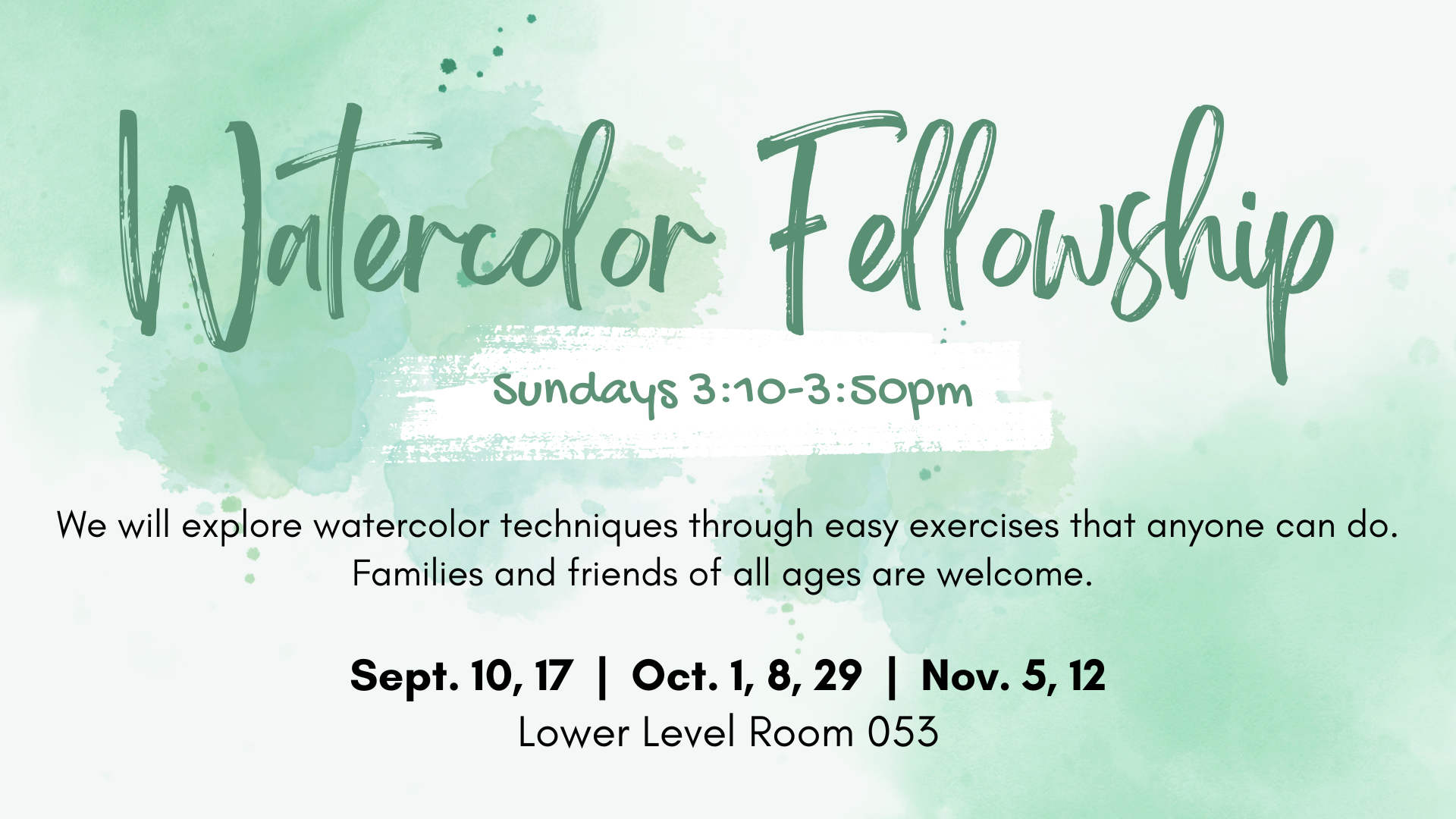 WATERCOLOR FELLOWSHIP
Sundays, Sept. 10, 17, Oct. 1, 8, 29, Nov. 5, 12
3:10-3:50pm | Lower Level Room 053
Join us this fall to fellowship and create. We will explore watercolor techniques through easy exercises that anyone can do. Families and friends of all ages are welcome. If you're interested or plan to attend, please email Kelly Dewar at KellyDewar@fpcmarietta.org to ensure we have the supplies needed for all participants! Presented by the Arts Committee
FELLOWSHIP BREAKFAST
Next Breakfast date: September 17
Join us from 9:15-10:30am in Holland Hall.
$5/person and $20/family max
Breakfast can't happen without a fabulous team of volunteers each Sunday!
Spend time in a fun kitchen setting and meet some new FPC friends!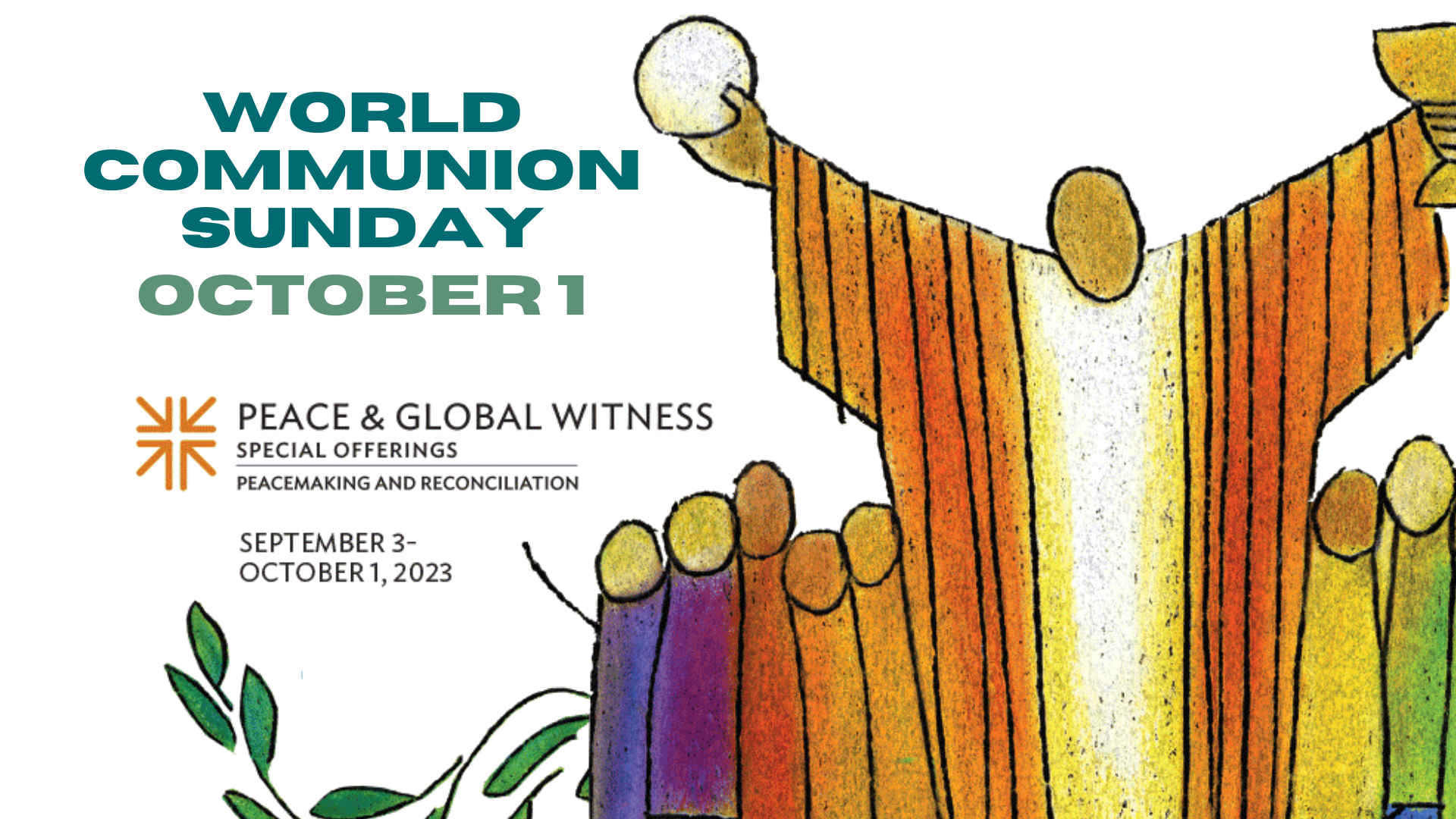 WORLD COMMUNION SUNDAY
PEACE & GLOBAL WITNESS SPECIAL OFFERING
Sunday, October 1
Give online to the Peace & Global Witness Special Offering!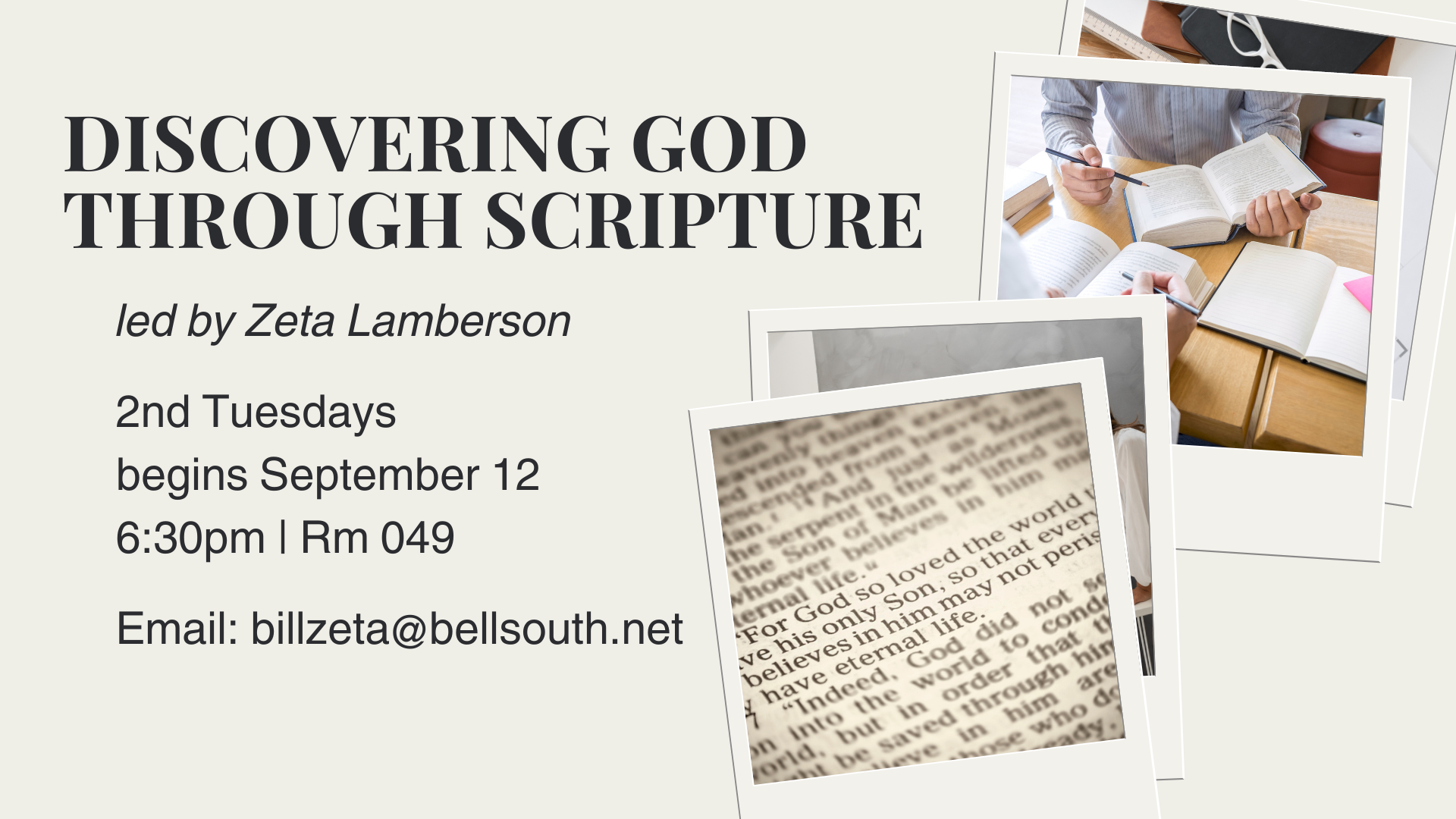 NEW STUDY!

DISCOVERING GOD THROUGH SCRIPTURE
led by Rev. Zeta Lamberson
Begins: Tuesday September 12, 6:30-8:30pm (Room 49)
In this exciting new study, we'll read through every book of the Bible on a three-year cycle. Each month, the class will meet for lecture and a discussion on the book they've just read. We'll learn how scripture teaches us who God is and consider the ways we are called to live into that truth. Will meet 2nd Tuesdays, 6:30-8:30pm.
To be part of this study, please email Zeta Lamberson here.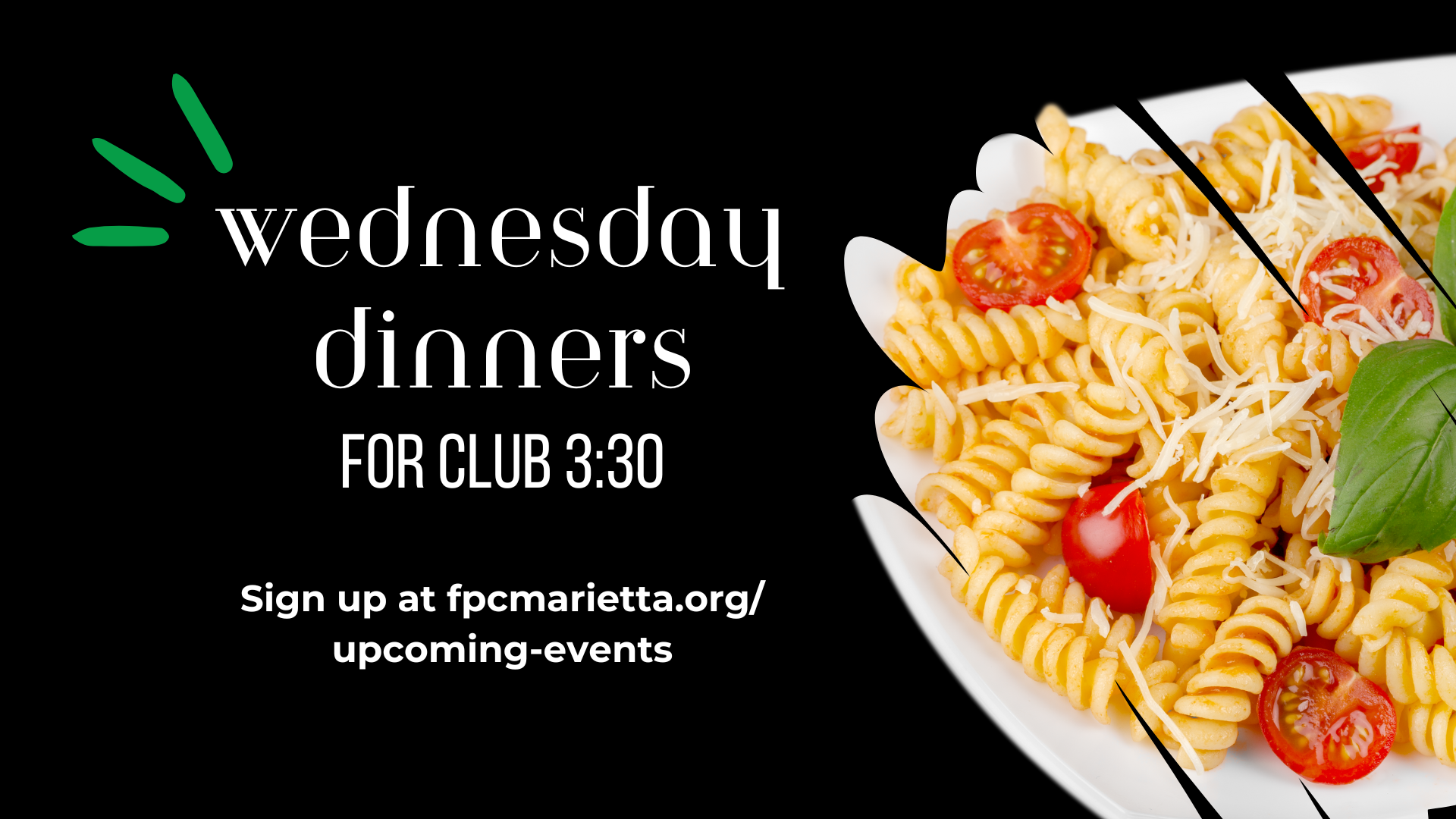 CLUB 3:30 MEALS
You are invited to assist in a meal for the 28 students enrolled in Club 3:30 on Wednesday afternoons at 5pm.
Food can be pizza delivery, boxed meals from a local fast food outlet, simple home-cooked meals, etc. For details on what student preferences might be, please reach out to Club 3:30 Director Mary Groves, MaryGroves@fpcmarietta.org; 770-427-0293.
Thank you!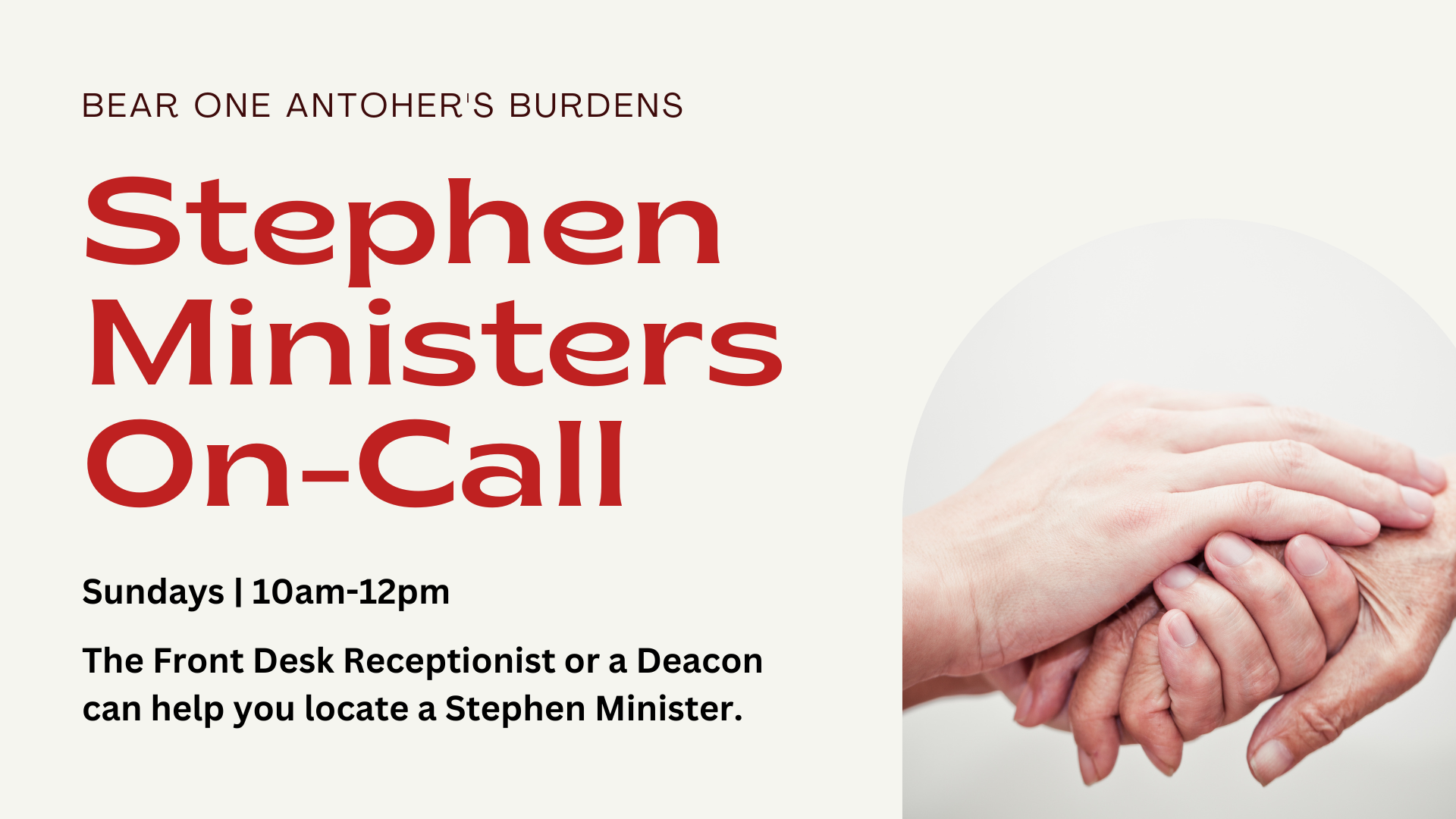 STEPHEN MINISTERS ON-CALL
Sundays, 10am-12pm
If you would like to speak to a Stephen Minister during their on-call hours, please see the Front Desk receptionist or speak to an on-duty deacon.
So much in life can sideline us: illness, grief, job loss, financial crisis, aging, separation or divorce, loneliness, birth or adoption, spiritual crisis… sometimes we just need someone to talk to about it all. Trained Stephen Ministers are ready to provide you with distinctively Christian one-on-one caregiving as you deal with any life difficulty or transition.