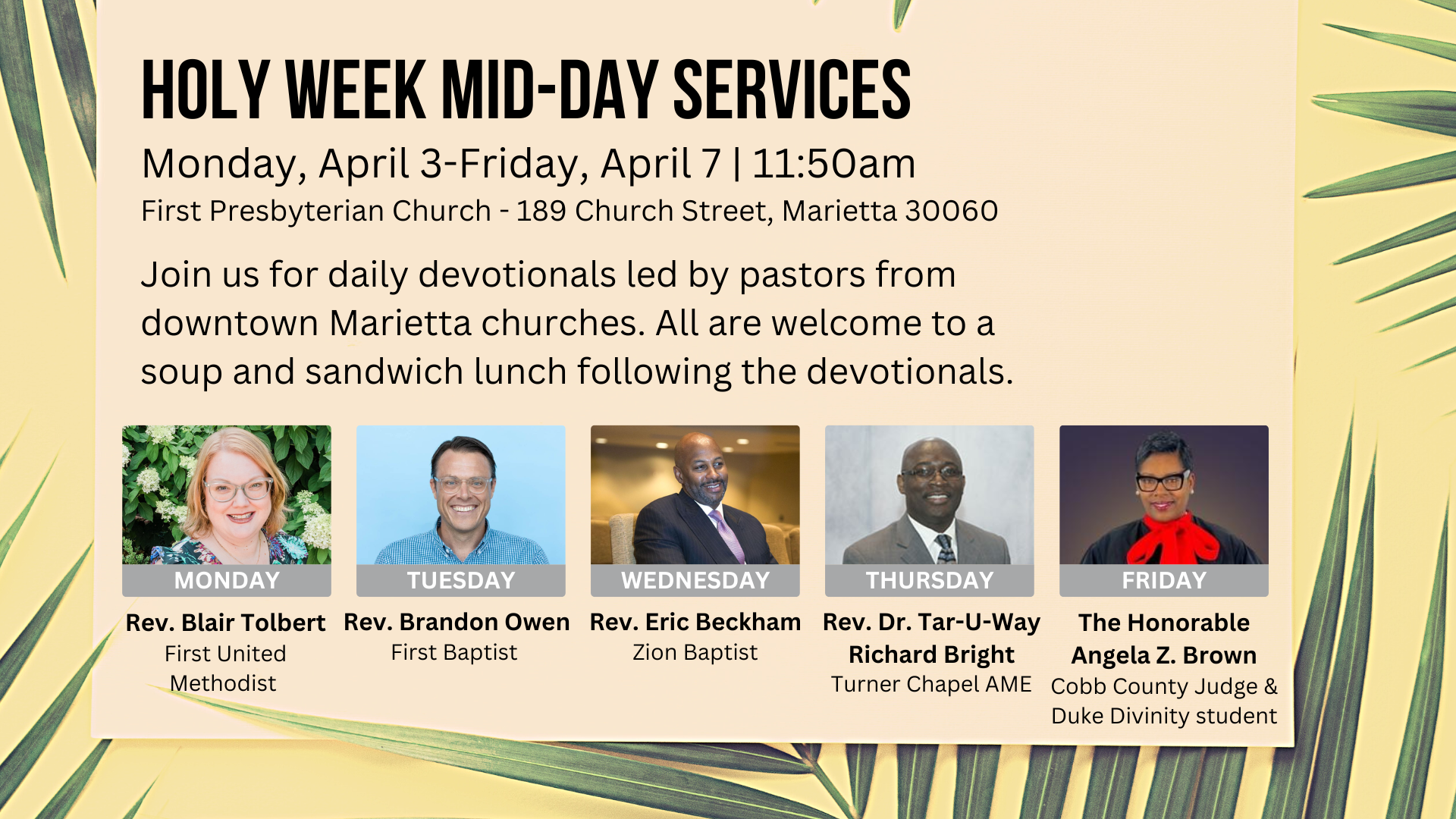 HOLY WEEK MID-DAY SERVICES
Monday, April 3-Friday, April 7 | 11:50am-12:20pm | Sanctuary
Join us for daily devotionals led by pastors from downtown Marietta churches.
All are welcome to a soup and sandwich lunch in the Great Hall following the devotionals.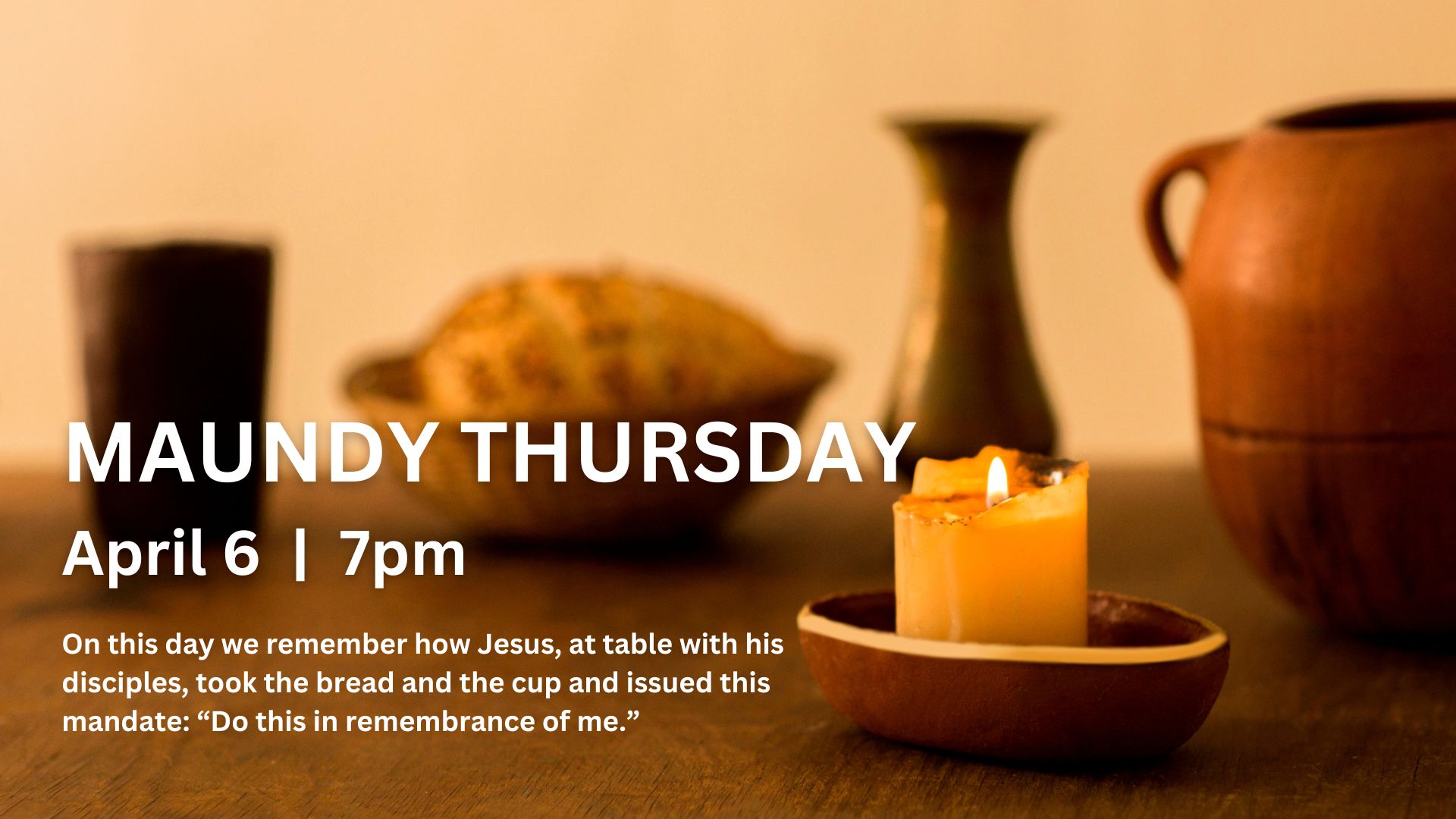 MAUNDY THURSDAY
Thursday, April 6 | 7pm | Sanctuary
On this day we remember how Jesus, at table with his disciples, took the bread and the cup and issued this mandate: "Do this in remembrance of me."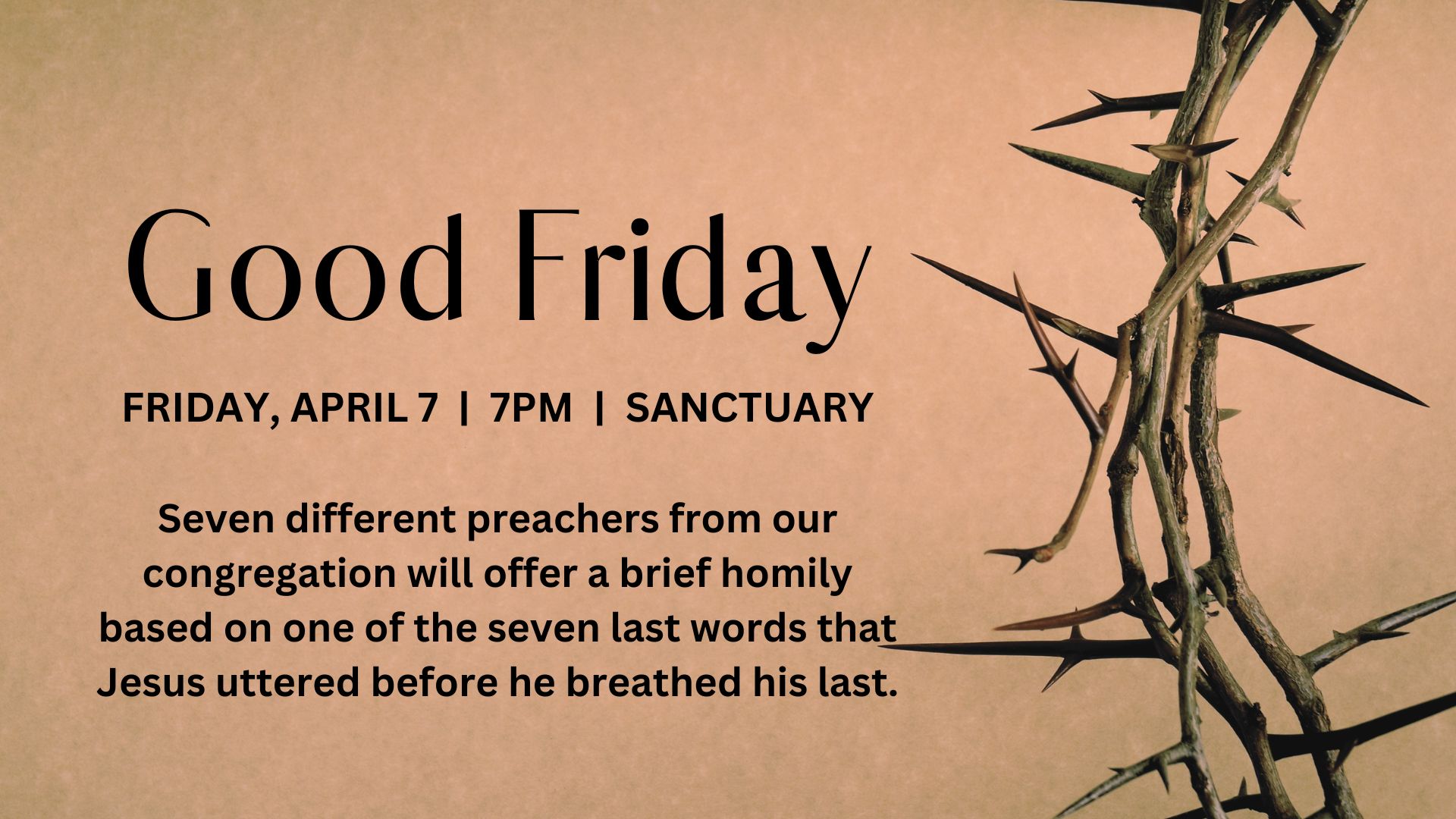 GOOD FRIDAY
Friday, April 7 | 7pm | Sanctuary
Seven different preachers will offer a brief homily based on one of the seven last words that Jesus uttered before he breathed his last.
Father, forgive them, for they know not what they do. Meri Kate Marcum

Truly, I say to you, today you will be with me in paradise. Rev. Dr. Sam Stevenson
Woman, behold your son. Rev. Cassie Waits, FPC Associate Pastor
My God, my God, why have you forsaken me? Rev. Dr. Don Esa
I thirst. Rev. Dr. Pem Cooley
It is finished. Rev. Zeta Lambertson
Father, into thy hands I commit my spirit. Rev. Dr. Paul Sherwood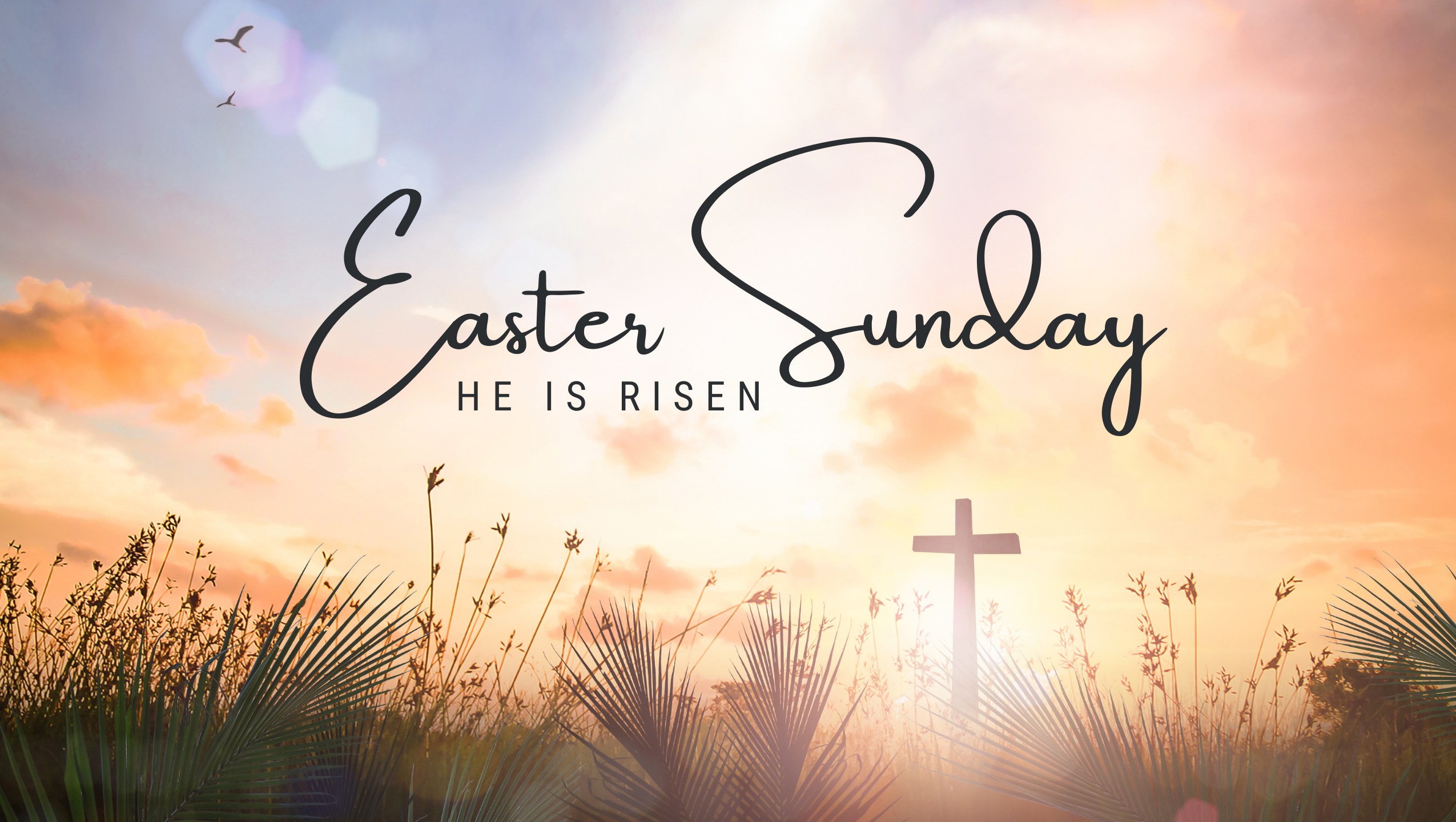 EASTER SUNDAY
We celebrate the resurrection of our Lord. Join us!
8:30am in the Great Hall
11:00am in the Great Hall
Extended Nursery Hours: 8:15am-12:15pm
Sunday School Hour: 9:45am
Children will participate in an Easter Egg Hunt during this hour.
On Easter Sunday, we will adorn a cross with fresh flowers. You are encouraged to bring fresh blooms (purchased or from your yard) to celebrate our risen Lord.
ONE GREAT HOUR OF SHARING OFFERING
in a world of disaster, hunger, and oppression
Millions of people lack access to sustainable food sources, clean water, sanitation, education, and opportunity.
The three programs supported by One Great Hour of Sharing – Presbyterian Disaster Assistance, the Presbyterian Hunger Program, and Self-Development of People – all work in different ways to serve individuals and communities in need. From initial disaster response to ongoing community development, their work fits together to provide people with safety, sustenance, and hope.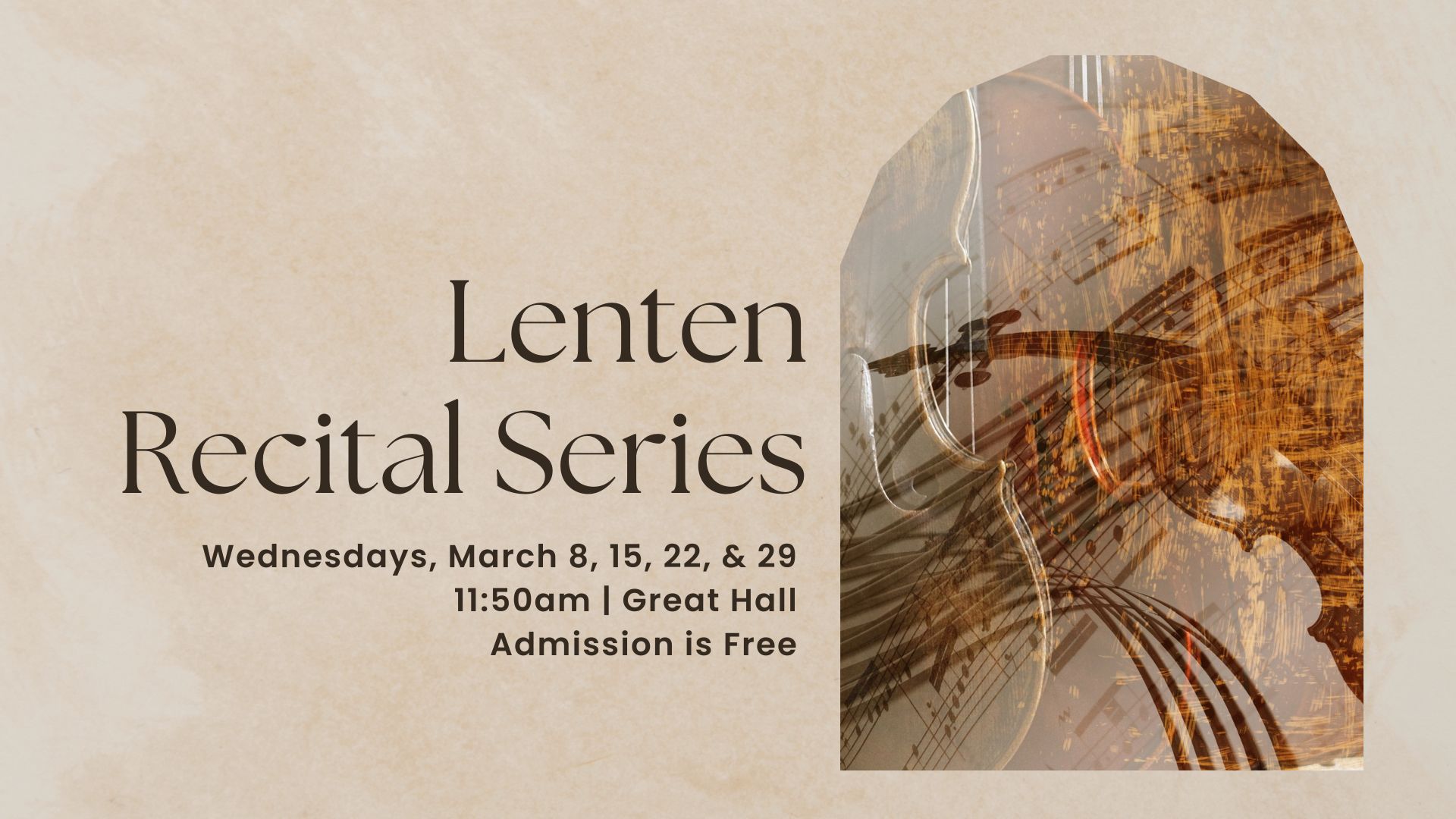 LENTEN RECITAL SERIES
Wednesday, March 8-29 | 11:50am
The March 8 recital has been rescheduled for Wednesday, May 3 at 11:50am
Admission is free.